Pardot Integrations
Pardot can be a very powerful tool if your organization is leveraging it correctly. In this post, I'm going to provide some Pardot tips on the different types of Pardot integrations that you can undertake to make the tool more powerful.
As a lot of you know, Pardot comes with the ability to connect to approximately 17 different services out of the box, depending on your edition. Services such as LinkedIn, Facebook and Google Analytics, among others. What you may not know is that Pardot has the ability to connect with hundreds of apps – not out of the box – but through custom integrations. This can be intimidating for someone who hasn't been using Pardot for very long or isn't a very technical person, and I hope this post can help answer some of your questions and allow you to get the most out of your Pardot implementation.
Out of the Box Connectors
Before we dive into the custom integrations, I want to talk about some of the out-of-the-box connectors that sometimes get overlooked.
Wistia
Wistia is a video-hosting platform that integrates directly into Pardot without any custom work required. It allows you to host videos, gate them with forms and passwords to collect more information on your prospects, and even allows you to set up automated triggers that can fire off if your prospects watch a certain percentage of your video. In addition, the way Wistia videos are displayed as Pardot activities on the prospect record once a prospect interacts with one is pretty cool. It acts like a heat map that allows you to see the exact parts of the video that your prospects find interesting.
Webinar Integrations
Pardot integrates with WebEx, ReadyTalk and GoToWebinar. All three of these connectors have very similar functionality as far as what they allow you to do in Pardot. The biggest perk is that you can use Pardot forms to handle registrations for your webinars, allowing prospects and data to follow your registrants directly into Pardot, as well as your webinar tool.You can also segment and build Pardot lists based on the attendance status of your registrants.
Social Posting Connectors 
Out of the box, Pardot has the ability to integrate with Facebook, Twitter and LinkedIn. Over the years, Pardot has made great strides in improving its social posting capabilities. If you choose to connect any of those three services, you'll have the ability to connect multiple LinkedIn, Facebook and Twitter pages (if your business has multiple pages to track). You'll have access to a scheduler where you can schedule out as many posts as you'd like, and you can pick and choose the social pages where you'd like to post. Since you're actually posting in Pardot, as opposed to posting through the social media platform itself, all links will be tracked and recorded in Pardot for you to report and segment on.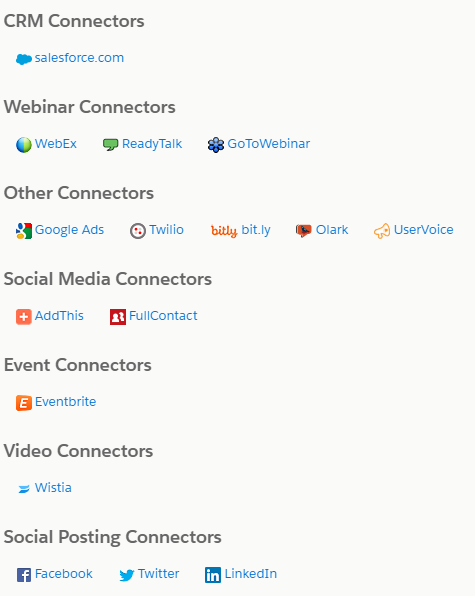 Custom Integrations
As I mentioned earlier, Pardot has the ability to connect to hundreds of other services if you're willing to invest the time to set them up. Some are quick and easy while others may take a bit more configuration.
As a Pardot consultant, I hear a lot of clients asking about integrations that don't come with Pardot out of the box. When a customer hears that it will take a custom integration in order to connect a service, a lot of times they choose not to connect, which can cause them to miss out on something that could really benefit their business. Let's talk about some of the more popular connectors that require some custom work.
Facebook Lead Ads
If you're already using this service as well as Pardot, you're missing out on some functionality if the two tools aren't connected. This integration will allow new prospects to be created and tracked in Pardot if a new lead is generated through one of your Facebook ads.
Instagram
This connection has a lot of potential. It isn't incredibly robust currently, but as you know, there is no native Instagram functionality in Pardot like there is for Facebook. When new media are posted to your account, you have the ability to update prospect records, add them to a Pardot list, and even trigger emails to send out.
Unbounce
I see some clients using Unbounce as a third-party landing page and form builder. It can be a very beneficial tool, and even more so if you're able to integrate it into Pardot, which you can do with a bit of custom work. Once integrated, your Unbounce submissions will flow seamlessly into Pardot.
Ways to Setup Custom Integrations
The configuration of the custom integrations is usually what scares people away from actually doing it, but it isn't actually as scary as it may seem. There are tools that will set up the integration for you, some without any coding required.
Zapier
This is the name I see thrown around the most when it comes to custom integrations. On the plus side, there is no coding required and by copying a single line of code that Zapier provides, you're mostly done with the setup. One of the biggest downsides to Zapier is the cost. Depending on how many API calls you'll be executing, this price has the potential to get a bit steep. It varies widely from client to client and depends on how much you'll be using the custom integrations.
Tray.io
Tray.io is a competitor of Zapier. It's another popular tool customers can use to integrate non-native apps into Pardot. Much like Zapier, the pricing depends on how much you plan on using it. They offer a Standard Edition for the more casual user all the way up to the Enterprise Edition for larger companies that want to squeeze as much out of Pardot as possible.
Wrap-Up
Pardot has the potential to be an incredibly robust tool for account-based marketing and it's important to understand its full capabilities. Pardot consulting has allowed me to see some really cool things customers have done with their marketing automation efforts. Whether you choose to connect any of the non-native integrations or just stick with what comes out of the box, it's a good idea to know what you're working with. If you need assistance setting these up, give Invado a call!