Last time I outlined all the reasons you should turn on the Pardot Connected Campaigns feature.
This fantastic feature has huge potential for aligning your Pardot Marketing Automation platform more closely with Salesforce.
There are just a couple of steps to getting it set up.
Turn on Connected Campaigns in Pardot
In Pardot, go to your Account Settings page.
Find the gear/cog icon at the top-right of your screen, and click it. Then click Settings.
The new page will be a summary page for your Pardot Account.
Click the Edit button at the top-right.
Now scroll down to find the Connected Campaigns bar, and click to expand it.
Is your Pardot Account ready for Connected Campaigns?
If you have a fairly new Pardot account – you just got Pardot or you got it after February of 2018 – you are probably ready to go. You will see a screen similar to this one.
If your Pardot Account is a bit older, then you may see an error message like below:
"Requirements: Your org needs a few changes. To connect your Pardot and Salesforce campaigns, make sure your org meets these requirements: At least one Salesforce campaign record type must be enabled for connection."
This error message is a tiny bit misleading in that it doesn't tell the whole story.
To resolve it, you need to contact your Salesforce AE. You will just need to agree to Pardot's newest terms and conditions, and then Pardot will enable the feature for you.
Don't worry! It's a really simple procedure. It may take a day or so to get everything settled, but it's very straightforward.
You will get an updated terms and conditions document, and you can do a simple e-signature. If you do not usually sign for updated Salesforce contracts then it will be sent to your Salesforce Admin (or other major point of contact). Just give them the heads up and make sure you tell them why they should sign it.
After Pardot gets the newly updated e-signature on file, your Pardot account will be enabled to use Connected Campaigns.
At this point you will be able to come back to this page and start enabling Connected Campaigns.
Enable Pardot Connected Campaigns
Now you are ready to enable Pardot Connected Campaigns, you will check three options to start.
The first box will be the box that says "Enable Connected Campaigns and Engagement History."

The second box will be the box that says "Show unconnected campaigns in Pardot Campaigns tab"

And the final option will be for the Campaign record types. If you have multiple Campaign Record types you can choose just the record types you want to use for Pardot assets. If you don't have any Campaign Record Types then you must select the 'Master Record Type' at a minimum.
Tip: you may need to save this page and edit it again a couple of times in order to check all the boxes. You may need to first check the box for "Enable Connected Campaigns and Engagement History" and then save the page, and then click 'edit' again to continue. However you get there, make sure you select these other settings.
When you save, you will get a pop-up warning: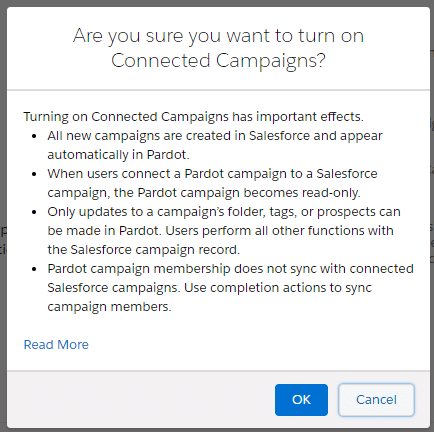 Campaign Alignment is where the fun begins, and the magic starts happening in Salesforce. We'll cover that topic soon.
Want to get an alert when I publish the next article? Sign up for our newsletter to get our news by email.
Are you ready for Pardot Connected Campaigns? Let us guide you through the process!
Do you want support in turning on Pardot Connected Campaigns? We would love to be your guide through the process. Contact us today about turning on Pardot Connected Campaigns.
Update – Read all the blog posts about Connected Campaigns:
Pardot Connected Campaigns: First Steps to Setting It Up and Turning It On  (this article)